Star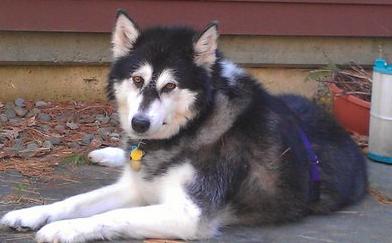 A note from Star's adopted family
Star came to us after Christmas in 2005. She was Natalie's dog but we became her pack. She enjoyed couch time with friends, hiking with her pack in NH.
Star knew how to enjoy life - especially yummy ice cream containers - and she knew how to dress for the holidays. Like all mals, she loved a good roll in the deep snow. This winter and spring were rough, she developed a spinal degenerative problem, first a foot drop and then progressive loss of function of her hind legs.
On her last days, she could no longer stand even with support and cried over her loss of control. She crossed the rainbow bridge peacefully on May 13th. She was the best malamute I have ever had the privilege of sharing my home with.
Thanks to Ruth E for her foster care before us and to AMRONE for allowing us to have her. We miss her tremendously.